Small and Medium-sized Enterprise (SME) defines the assets or number of employees of a certain business that maintain under a certain threshold. Every country has its own criteria in defining what a small and medium-sized enterprise (SME) should be. In Malaysia, SME Corporation Malaysia is one of the central coordinating agencies (CCA) that under the control of Ministry of Entrepreneur Development and Cooperatives (MEDAC). They are responsible in coordinating all small and medium enterprises (SMEs) that related with Ministries and agencies to involve in different development programmes.
For Malaysia, a new review of SME definition was approved during the 14th NSDC Meeting in July 2013. There are two criteria under the consideration of defining SME for different sectors, which are:
Manufacturing sector: Sales turnover ≤ RM50 million OR number of full-time workers ≤ 200
Services and other sectors: Sales turnover ≤ RM20 million OR number of full-time workers ≤ 75
However, except for some publicly-listed and government-linked entities, all of the SMEs' entities must be registered under SMM or other equivalent bodies.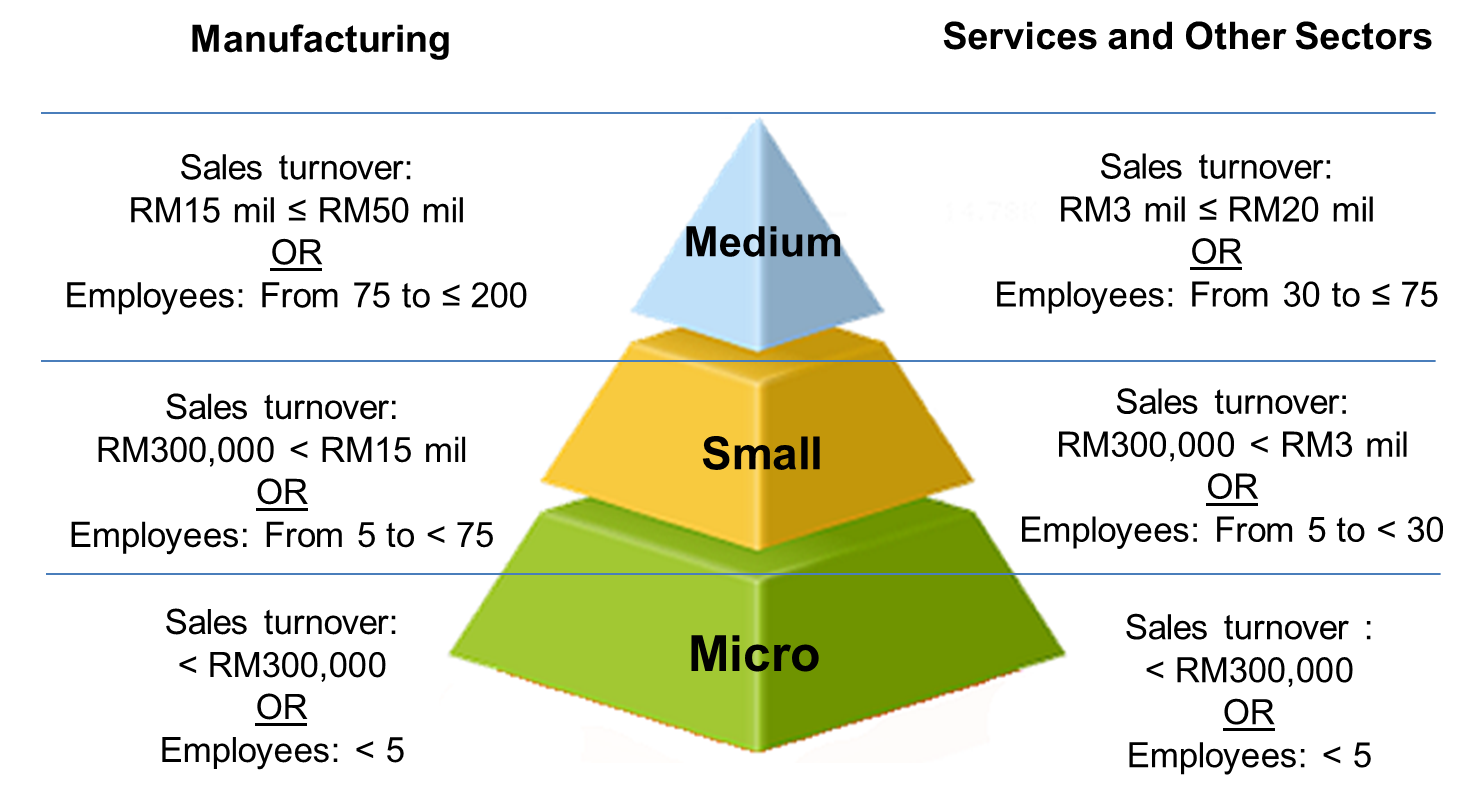 SME sectors play a crucial role in bringing beneficial effects to the economic growth by making it possible for Malaysia's economy to achieve its goals. They provide new jobs for employees by giving contribution on social stability. Furthermore, they have higher flexibility than large enterprises since many materials used in new creations or products for large companies were provided by SMEs as they produce goods and services efficiently in order to increase the GDP value by encouraging national exports. SMEs also increase the competitive state of the markets in the prices, efficiency and products design. Stimulation in the economy competition had avoided large companies to be involved in monopoly on some activity areas.
            In order to support SME sectors, Malaysian government had issued RM 10 billion worth of funding to SMEs where additional grants that worth RM 2.1billion are also prepared to micro-enterprises. The government will also abolish up to two percent interest rates for the micro-credit scheme where SMEs are allowed to receive a loan that up to RM75,000.
            To encourage SMEs to adopt digitalisation in their businesses, an initiative named as SME Digitalisation Grant is declared in Budget 2020 with the cooperation of MOF, BSN, SME Bank and MDEC. Every company will receive a 50 percent matching grant with up to RM5000 subscription of approved digital services from the government under this initiative. First 100,000 SMEs who applied for this grant will received grant that worth RM500 million over 5 years. There are five services covered under SME Digitalisation Initiative:
Electronic Point of Sales (e-POS) System
Human Resource Payroll System (HR) / Customer Relationship Management (CRM)
Digital Marketing / Sales
Procurement
Enterprise Resource Planning (ERP) / Accounting & Tax
Remote Working
e-Commerce
Application steps for SME Digitalisation Grant are as below:
Contact and appoint one or more services of Service Providers listed by MDEC to perform any of the digitalisation services available (max. 3 digital services).
Complete and submit the application form together with the required supporting documents to the Service Provider.
Service Provider submit the application form together with the supporting document to the Bank.
Once the application is approved, applicant pays 50% from the total invoice or more which Bank will only make payment 50% or up to RM5,000.00 to the Service Provider.
If you would like to apply for SME Digital Grant for SEO or Google Ads, kindly click the link for more information.