Feeling frustrated on how to enhance the attraction of customers to your brand and products? We, Red Apple Creation® is here to help! Red Apple Creation® is an integrated retail marketing agency that provides various marketing solutions on in-house design, printing, visual merchandise, dynamic POSM, manufacturing, in-store displays and marketing collaterals for multinational clients and local corporations in Malaysia.
We have been incorporated since 2008, as time passed, our team had grown into an experienced full-fledged design and printing specialist who had served over 50 well-established local and international clients by helping them to plan, design and develop their production and in-store display that met the consumers' trends. We treated every project sincerely in order to satisfy the needs of our customers by ensuring their entire customer experience journey starting from enquiry, procuring, conceptualization, design, mock-up and final production are under their expectations.
Our team strives hard to impress our clients with innovative design solutions that can add value to their brand as we understand the importance of personalizing brand experience in order to attract their target market by making their products look good as well as conveying their brand message visually. We design, produce and manufacture a wide range of Point-of-Sale Materials (POSM), customized display solutions, creative solutions, fitting, signs, rack, dispensers and other kind of marketing collaterals in order to achieve this goal.
As one of the experienced Point-of-Sales Material supplier in Malaysia, what kind of in-store display service do we offer to our customers? With a team of creative, commercial-savvy and experienced design specialists, we provide various type of in-store display design on:
retail display: Anything in store that houses or promotes your products.
counter display: Optimum aids for the effective presentation of products on counters, tables and at the point of sale.
block display: Common tool to create the look of a perfectly stocked store to the front by down stacking all the canned and stacked items.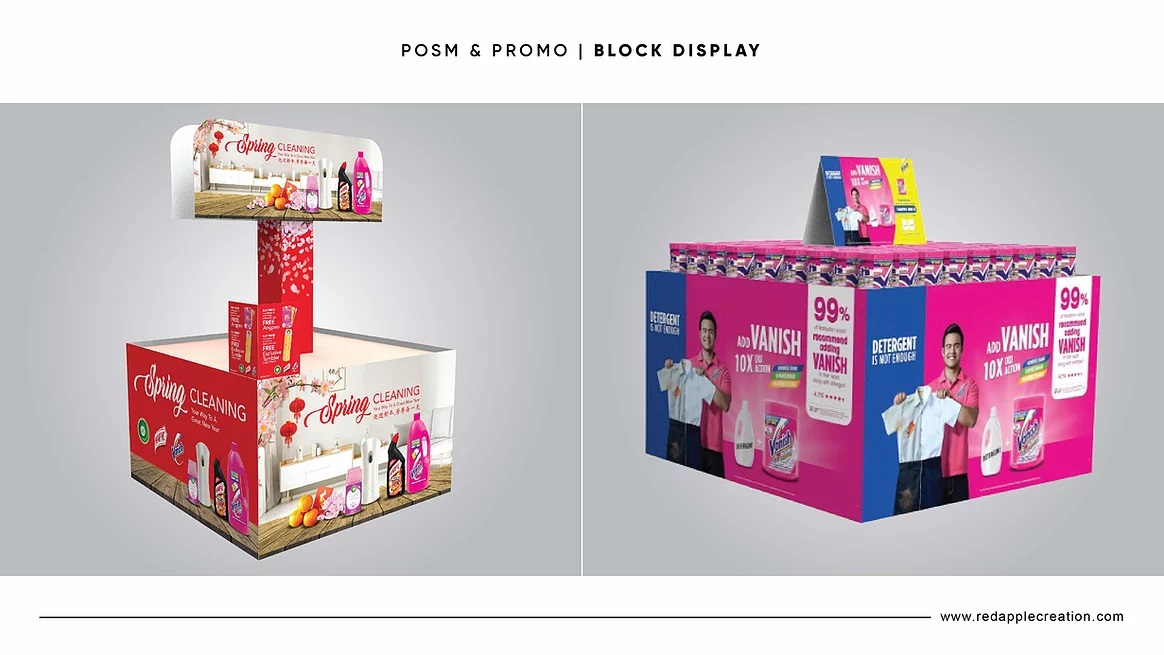 All of these Point-of-Sale displays creations are done with our in-house printing facility that used advanced printing technology in order to present all of the final products in the highest-quality printing.
Red Apple Creation also offers one-stop solution for customers who are planning to launch a roadshow/concourse event or exhibition as from planning, creative design development to 3D visualization, mock-up, final POS display production and installation at the venue are all done by us to ensure the prices, speed, quality and service delivered are always optimum for our customers. Various type of event booth design can be provided by us for an event on these materials:
Arch
Counter
Sampling booth
Roll up bunting / banner
Brochure / leaflet
Demo kit
Mechanical board
Pop-up stores
Exhibition booth
Sampling tray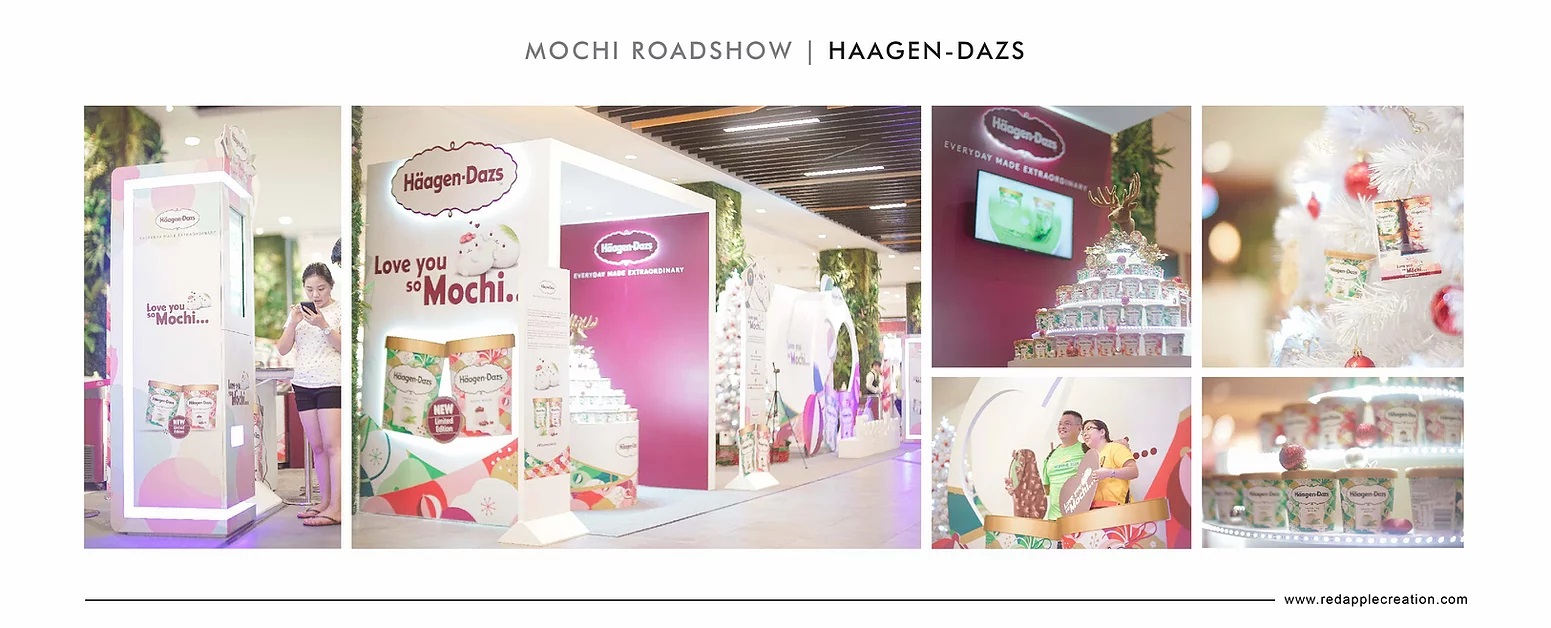 Not just event-based materials, we also play a role as a display showcase supplier as we have been working with various prestigious brands and businesses (eg.: Starbucks, Haagen Dazs, Energizer, Magnum…) in showcasing and marketing their brands to the right target audience. It's an honour for us to be able to work with them in providing some POSM solutions for their posters, bunting, freezer wrap, power wing, standee, block display and so on.