Plastic Injection Mold Maker
The quality of your injection molded parts depends essentially on the mold you use.
As one of the leading tool and die makers, H. H. Precision Mould Pte. Ltd is using tool and die molds that are incorporated with accessories from prominent suppliers such as Hasco, LKM, DME and Thyssen in order to produce quality and robust molds for our valued clients.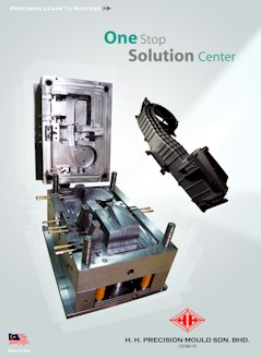 We have more than 30 employees at H. H. Precision Mould Pte. Ltd. We are all highly committed to ensuring that you, our customer, receive a superior mold and excellent service.
The quality in tool and die / mold making business starts with the design process, but even more depends on the precision and quality of machining and finishing jobs. Experience Tooler specialists also mean they would be able to assist customers in setting up the optimum process parameter, to shorten cycle times and improve product quality. Achieving the neatest and the most precise finishing with effective machining time made possible through hardware and software investments shown below:
◾ Microsoft Project software to closely monitor mold making process
◾ Fanuc and Okuma high speed cnc machines to shorten machining time and enhance tool accuracy
◾ Fanuc Robocut high speed wirecut machine to increase our capability in tool rapid manufacturing
◾ CNC Electrical Discharge Machine (EDM) to increase tool accuracy and reducing machining time
For more information about the plastic injection mold services, http://www.hhmould.com/plastic-injection-molding.html