My Bliss Clinic is one of the top aesthetic clinic in KL, lead by Doctor Elson Chee, who is also one of the reputable aesthetic doctor in Malaysia.
In this fast-growing field of medical and aesthetic dermatology, we are dedicated to deliver advanced aesthetic care and treatments. We always retain the greatest sense of responsibility, care and ethics while providing the highest level of patient care and aesthetic procedures. Our clinic offers an extensive menu that encompasses a broad array of conditions, treatments and procedures spanning medical and aesthetic dermatology.
We aim to provide excellent customer care and deliver good results, with full dermatological knowledge, ensuring our patients to have peace of mind every step of the way. A part of our practice is aimed at helping our patients to achieve the health and beauty they desire by offering multiple treatments. Our medically directed and innovative skin care treatments have also been scientifically proven to improve and maintain the condition of patient's face and body and to help each of our patients attain the healthy beautiful smile they desire. That's what makes us the best at what we do.
Some of our services include :
Juvederm Filler Malaysia
Hyaluronic acid (e.g. Juvederm & Teosyal) is the most popular among types of fillers available in the market, due to its safety profile and effectiveness. It is a biocompatible and biodegradable product which means that it is not harmful to the body and is broken down and removed from the body naturally.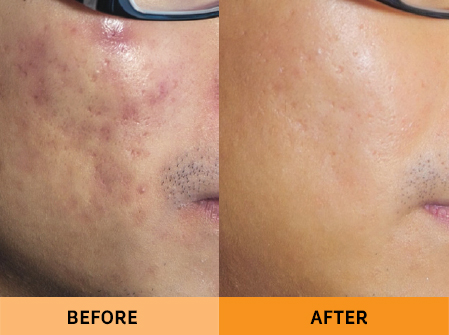 Acne Scars Treatment in Malaysia
We have various treatment for acne scars depends on the type of acne scars you are having:
Ice pick scarring
This common type of scaring is usually deep, very narrow and extends into the dermis. The skin surface looks as though it has been pierced by an ice pick- hence the name. Some ice pick scars are large in size and often look similar to an open pore.
Treatments: The appearance of ice pick scars can be improved with fractional ablative lasers such as laser. Laser resurfacing is promising because the penetration depth into the skin is more easily controlled with a laser than with other methods. The procedure involves passing the laser over the treatment area 1-3 times and can take just a few minutes for small areas or 20 minutes or more for large areas. Local anesthesia is used.
Boxcar scarring
Boxcar scars are usually rounded or oval shaped depressions in the skin with steep vertical sides. This type of scarring is also very common in acne scarring sufferers. Much wider than the ice pick, they resemble the scars left by chicken pox and are usually found on the cheek area.
Treatments: Same as ice pick scars, they can be improved with resurfacing laser treatments. PSP is an alternative treatment option for acne scar or it can be combined with lasers for a even better result.
There are many other aesthetic services provided. For more information, please visit https://www.myblissclinic.com/